Hip replacement surgery may be an option for patients with severe hip pain caused by arthritis that has not improved with more conservative treatments. Hip arthritis can limit your mobility and cause you to avoid many activities because they are simply too painful. Hip replacement surgery can greatly reduce your pain and improve your quality of life by allowing you to regain your mobility.
Dr. Kevin Riché completed a fellowship in orthopaedic trauma and pelvic surgery at Harvard School of Medicine, during which he performed numerous hip replacements. He also has over 15 years of experience performing hip replacements in private practice. Dr. Riché is happy to answer any questions you may have leading up to or after your hip replacement surgery.
Who is a Candidate for Hip Replacement Surgery?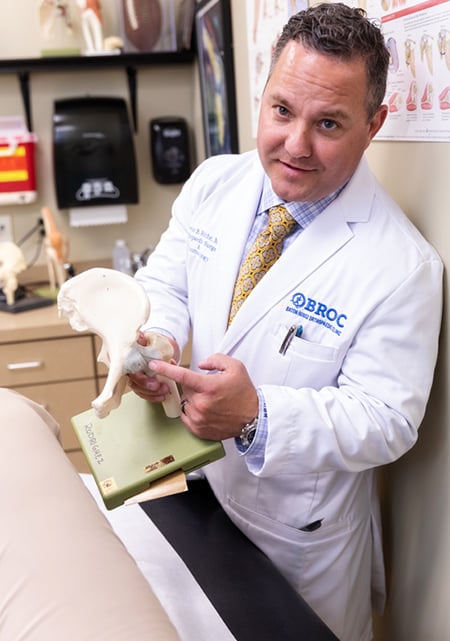 Candidates for hip replacement surgery typically have hip pain and disability caused by arthritis. Initially, nonsurgical treatments like medications, injections, physical therapy, and assistive devices like canes or walkers are recommended to treat hip arthritis. However, if a patient does not see any improvement with these treatments, hip replacement surgery may be recommended to restore function and mobility of the hip.
Candidates for hip replacement surgery often have the following symptoms:
Pain and/or stiffness in the hip that limits motion, interfering with everyday activities like walking and bending
Hip pain that persists even while at rest
Hip pain or stiffness that is not relieved by nonsurgical treatments
Dr. Riché evaluates all patients on a case by case basis to determine whether hip replacement surgery is an appropriate option.
Hip Replacement Procedure
Hip replacement surgery involves removing the damage bone and cartilage in the hip joint and replacing them with implants to restore hip function.
There are a few different techniques and approaches that orthopaedic surgeons may use for hip replacements. For the vast majority of hip replacement cases, with the exception of patients who have previously had hip surgery, Dr. Riché uses the direct anterior approach. The direct anterior approach is minimally invasive, which results in less muscle damage and a much easier recovery than more traditional hip replacement approaches.
First, Dr. Riché makes an incision at the front of the hip to access the joint. With traditional hip replacement approaches, the incision is made at the back of the hip. By placing the incision at the front of the hip, Dr. Riché does not need to detach any of the muscles or tendons surrounding the joint to complete the procedure. With a traditional approach, the muscles and tendons do need to be detached, which can lead to a more difficult and painful recovery. The direct anterior incision is also much smaller than a traditional incision, which can minimize scarring.
Once Dr. Riché has accessed the joint, he will remove the damaged cartilage and bone, replacing them with implants designed to restore function and proper alignment of the hip. The procedure typically takes about 1.5–2 hours to complete.
Recovering from Hip Replacement Surgery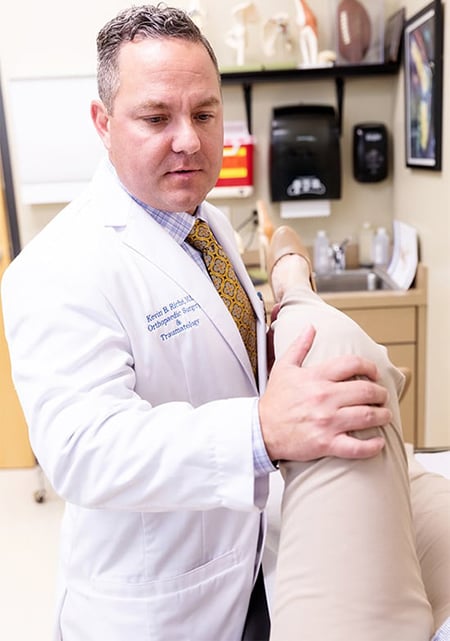 Because the direct anterior approach is minimally invasive and muscle-sparing, recovery is much easier on the patient. Patients who have had a direct anterior hip replacement are often able to return home the day after surgery, and can often begin walking in the hospital the day of surgery with the use of an assistive device like a walker.
Patients typically use assistive devices like a walker or cane to get around for a couple of weeks before they begin walking on their own. Patients also participate in rehab for about 6 weeks to improve strength and range of motion in the new hip. On average, patients fully recover in about 6 weeks, but this can vary based on the patient's individual needs. Dr. Riché will advise when it is appropriate for you to resume normal activities.
Another benefit of direct anterior hip replacements is that patients have fewer long-term restrictions than patients who undergo a traditional total hip replacement. With a direct anterior hip replacement, the new hip is very stable, which decreases the risk of dislocation. Patients are able to resume most activities that they were able to do before surgery, although some care may need to be taken to avoid bending at certain angles.
Patients with hip replacements may set off metal detectors while going through airport security due to the metal in the implants. However, TSA agents no longer accept doctors' notices as proof of a hip replacement, since this is easily duplicated. In these cases, you will likely have to go through more rigorous screening.
Patients often have questions about restrictions after hip replacement, including sexual activity, but may feel uncomfortable asking in person. Dr. Riché is happy to answer any questions you may have, but there are also credible resources available online. The American Association of Hip & Knee Surgeons has put together a guide on sexual activity after hip replacement surgery that you may find helpful.
Hip Replacement Surgery in Baton Rouge
Dr. Kevin Riché completed his fellowship training at the highly-respected Harvard School of Medicine, where he gained extensive experience in hip replacements. He has also received extensive training in direct anterior hip replacement, and has 12 years of experience in performing hip replacements in private practice. If you have any questions about Dr. Riché's approach to hip replacement surgery, or would like an evaluation, please call our office at or request an appointment via our convenient online form.
---
Hip Replacement Surgery Specialists